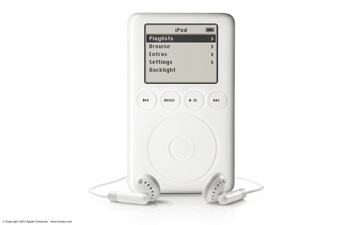 It's time for a music update. What are you listening to these days? Is there anything getting heavy rotation in your CD player or on your portable music player? Is there anything coming soon that you are planning to buy?
Here's mine:
Listened to today:
Metallica's "Dyer's Eve" from the
...And Justice For All
album, Switchfoot's "This Is Your Life" from
the beautiful letdown
, P.O.D.'s "Sleeping Awake" from
The Matrix Reloaded
soundtrack. Not too diverse of a list today.
Heavy Rotation:
Jars of Clay's
excellent, excellent, excellent
album
Who We Are Instead.
I bought this one on
Half.com
awhile back and didn't expect too much out of it. But it's a departure from their previous efforts and veers more toward the the roots/pop vein. I think the songwriting is kind of Johnny Cash-esque in that it is simple and there is an emphasis on darker lyrics but with a glimmer of hope woven throughout. Favorite track: "Jealous Kind."
Coming Soon:
U2's
How To Dismantle An Atomic Bomb
. Out Nov. 23, the first single, "Vertigo," is featured on the new iPod commercials and is an excellent song. Reviews promise that this album is one of their best yet. Unfortunately, I won't get to see them on this tour because it looks like they will be touring about the time the baby is scheduled to arrive and money will be scarce.
On my Christmas list (aka albums I may not really want to spend money on myself):
Kenny Wayne Shepherd's "The Place You're In" (I used to love this dude's music but have cooled on it in recent years. Still, I want to hear the new stuff), John Mellencamp's "Words & Music: John Mellencamp's Greatest Hits," King's X's "Live All Over The Place" (I only have two King's X albums so i'm not sure if this is a good third album to get but every live track I've heard from them is awesome, so...), Bon Jovi's box set "100,000,000 Bon Jovi Fans Can't Be Wrong" (another one that I may not like a whole lot but still want — it's a rarities box set. I know many of you are deeply disapointed in me for still liking Bon Jovi. Yeah, I'm kinda disappointed myself but I like what I like and this is my blog) ;-), Collective Soul's "Youth,"and Chevelle's "This Kind of Thinking (Could Do Us In)."
And you?